New Windows on ARM64 device? ESET protects both at work and at play
Created: 2022-04-04 07:28:28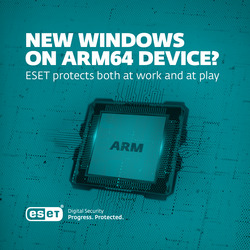 After the successful launch of its business-oriented siblings, ESET has extended its latest technology to home users/consumers and stands ready to protect their Windows on Arm-based devices with our award-wining full-featured products. Our development teams put a lot of effort into reengineering ESET's already mature security technology for ARM-powered devices, which are increasingly used in both business and home applications.
Thanks to its multilayered approach to protection, ESET Smart Security® Premium, ESET Internet Security and ESET NOD32 Antivirus products for Windows on ARM offer a slew of prevention and detection technologies. A key contribution to extending these functionalities was the invaluable feedback of the ARM64 beta products' home testers. Their insights mean you will enjoy our well-regarded user experience and the same award-winning protection ESET customers are used to.

Just like the award-wining Windows-based product, the version for ARM64 also includes ESET LiveGuard, which provides an additional proactive layer of protection against never-before-seen types of threats, protecting users before the malware has a chance to execute its action. Another feature is the addition of Password Manager, which has been completely redesigned for improved security and an even more user-friendly experience.

Underlying these key improvements is the ESET Home platform, which is designed for on-the-go security management. The platform enables users to add, manage and share licenses with family and friends, and to manage Anti-Theft, Parental Control, and Password Manager via a web portal. ESET Home directly supports ARM64 users who've opted to protect the progress enabled by mobile-centric "always on" devices.

With so many of us experiencing crossover use of our work and personal devices in the current work from home/hybrid work regime, ESET technologies now better reflect the extra protection that highly mobile users and their computing needs demand. Whether moving between multiple public and private networks, or managing devices visiting your home network, our new products recognize that "Always On" also risks "always" being vulnerable. The risks are backed up by considerable research showing that threats targeting employees working remotely from home have vastly increased. And, via customer research conducted by ESET showing that households often have a single person who takes care of IT security for everyone, having a solution that provides easy-to-use security management at the home admin's fingertips is crucial.

Hence, a critical part of your move to ARM should undoubtedly be security provided by a mature consumer security solution. To find out more about the new features and improvements in the latest version of our consumer offering, head to www.eset.com.
---


About ESET
ESET develops software solutions that deliver instant, comprehensive protection against evolving computer security threats. ESET pioneered and continues to lead the industry in proactive threat detection. ESET NOD32 Antivirus, its flagship product, consistently achieves the highest accolades in all types of comparative testing and is the foundational product that builds out the ESET product line to include ESET Smart Security. ESET Smart Security is an integrated antivirus, antispyware, antispam and personal firewall solution that combines accuracy, speed and an extremely small system footprint to create the most effective security solution in the industry. Both products have an extremely efficient code base that eliminates the unnecessary large size found in some solutions. This means faster scanning that doesn't slow down computers or networks. Sold in more than 160 countries, ESET has worldwide production headquarters in Bratislava, SK and worldwide distribution headquarters in San Diego, U.S. ESET also has offices in Bristol, U.K.; Buenos Aires, AR; Prague, CZ; and is globally represented by an extensive partner network. For more information, visit our local office at https://eset.version-2.sg.

About Version 2 Limited
Version 2 Limited is one of the most dynamic IT companies in Asia. The Company develops and distributes IT products for Internet and IP-based networks, including communication systems, Internet software, security, network, and media products. Through an extensive network of channels, point of sales, resellers, and partnership companies, Version 2 Limited offers quality products and services which are highly acclaimed in the market. Its customers cover a wide spectrum which includes Global 1000 enterprises, regional listed companies, public utilities, Government, a vast number of successful SMEs, and consumers in various Asian cities. For more information, please visit https://www.version-2.com.sg/ or call (65) 6296-4268.