Strong ARM tactics to keep your clients safe
Created: 2022-10-12 09:35:03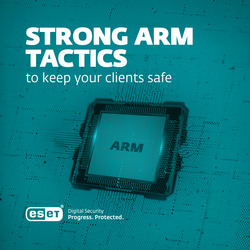 The 64-bit evolution of the ARM architecture family – the efficient and light ARM64 processor – is positioned to become increasingly adopted by businesses. Whatever the use case for adopting ARM-based devices — from real-time GPS tracking and running mobile point-of-sale software to enabling anywhere access to data for essential services workers — a critical component of the move to ARM is staying protected.
Therefore, it is important that managed service providers (MSPs) are doing all they can to protect their clients. At ESET, we are by your side and can help you safeguard your clients' systems that are running on ARM64.
Were you aware that the latest version of ESET PROTECT not only offers complete multi-layered protection for endpoints, cloud applications, and email, but also comes with ARM support? Following the update of ESET PROTECT in September 2022, MSPs can now leverage the unified endpoint management solution they love for the ARM64 platform. This means they can use their existing subscriptions to license ARM64 builds of ESET endpoint security products for Windows and macOS (Apple M1) while enjoying the same powerful management capabilities and experience they are used to.
The new version of ESET PROTECT with ARM64 support offers a slew of prevention and detection technologies from real-time file system protection that scans files for malicious code whenever they are created, opened, or run, to web access protection that monitors HTTP(S) traffic for malicious software, all the way to anti-phishing protection that detects illegitimate websites attempting to steal passwords or other sensitive data.
It's not just ARM64 devices that you need to protect. Thankfully, our solutions provide cross-platform security to protect all of a business' devices. This helps ensure you can prevent the latest attacks on your clients, and detect and respond to malicious activity, including the ever-present scourge of ransomware.
At ESET, we've got your back. For more than 30 years, we have been researching cyberthreats and innovating digital security technology, which has given us a unique understanding of the challenges our customers face. In response, we developed a multi-layered protection suite, combining our long-standing research into machine learning and artificial intelligence technologies, our cloud reputation system — ESET LiveGrid — and our human expertise.
We recently created a native ARM build of ESET Management Agent so that MSPs can manage the ARM-based devices of their clients using their familiar ESET PROTECT solution— a formidable cyberthreat prevention, detection, and response platform. To find out more about how ESET PROTECT can safeguard your clients as they move to ARM64, please click here. If you are interested in the ESET MSP Program, please click here.
---


About ESET
ESET develops software solutions that deliver instant, comprehensive protection against evolving computer security threats. ESET pioneered and continues to lead the industry in proactive threat detection. ESET NOD32 Antivirus, its flagship product, consistently achieves the highest accolades in all types of comparative testing and is the foundational product that builds out the ESET product line to include ESET Smart Security. ESET Smart Security is an integrated antivirus, antispyware, antispam and personal firewall solution that combines accuracy, speed and an extremely small system footprint to create the most effective security solution in the industry. Both products have an extremely efficient code base that eliminates the unnecessary large size found in some solutions. This means faster scanning that doesn't slow down computers or networks. Sold in more than 160 countries, ESET has worldwide production headquarters in Bratislava, SK and worldwide distribution headquarters in San Diego, U.S. ESET also has offices in Bristol, U.K.; Buenos Aires, AR; Prague, CZ; and is globally represented by an extensive partner network. For more information, visit our local office at https://eset.version-2.sg.

About Version 2 Limited
Version 2 Limited is one of the most dynamic IT companies in Asia. The Company develops and distributes IT products for Internet and IP-based networks, including communication systems, Internet software, security, network, and media products. Through an extensive network of channels, point of sales, resellers, and partnership companies, Version 2 Limited offers quality products and services which are highly acclaimed in the market. Its customers cover a wide spectrum which includes Global 1000 enterprises, regional listed companies, public utilities, Government, a vast number of successful SMEs, and consumers in various Asian cities. For more information, please visit https://www.version-2.com.sg/ or call (65) 6296-4268.