ESET Captures 52nd Virus Bulletin VB100 Award
Created: 2008-10-08 22:03:31
Detects 100 Percent of In-The-Wild and Polymorphic Viruses, Worms and Bots
SAN DIEGO – September 30, 2008 – ESET, the leader in proactive threat protection, today announced it has captured a record 52nd VB100 award from Virus Bulletin, a widely-respected independent comparative testing group. The October 2008 comparative review was conducted on the Windows Server 2008 platform, showcasing ESET's continued support for the latest Windows environments. ESET is still the only company with more than 50 VB100 awards and continues to lead the industry with the highest detection rates with zero false positives – the winning formula in malware prevention.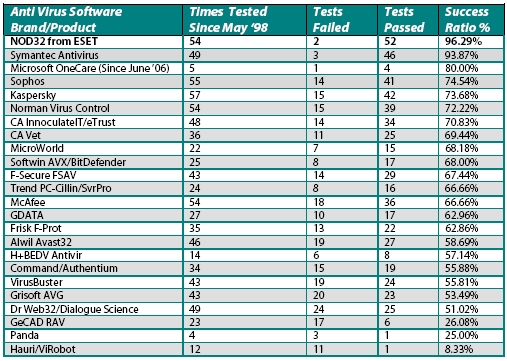 Virus Bulletin introduced its first VB100 award in 1998, and conducts several comparatives every year, rotating its platforms between Linux, Windows, Windows servers and Novell Netware. In order to display the VB100 logo, an antivirus product must meet two criteria: (1) Demonstrate it detects all "In-the-Wild" viruses during both on-demand and on-access scanning; and, (2) Generate no false positives when scanning a set of clean files. Since the inception of VB100 awards in 1998, ESET's antivirus products continue to boast a success rate of over 96 percent - the industry's highest. Most antivirus vendors have success ratios in the 50 – 75 percent range.
ESET NOD32 Antivirus' stylish new look remains impressive both visually and in usability terms." said John Hawes, Virus Bulletin. "Analysis of results showed the product's usual excellent detection rates and yet more splendid scanning speeds over the clean sets, with nothing missed in the WildList set. ESET adds yet another VB100 to its record tally."
ESET is powered by ThreatSense® technology, an advanced heuristics engine that enables proactive detection of malware not covered by even the most frequently updated signature-based products. Unlike traditional approaches, ESET solutions decode and analyze executable code in real-time, using an emulated environment. By allowing malware to execute in a secure virtual world, ESET is able to clearly differentiate between benign files and even the most sophisticated and cleverly-disguised malware.
To download a free trial of ESET's award-winning security software, visit https://eset.version-2.sg/html/44/42/
About ESET
ESET develops software solutions that deliver instant, comprehensive protection against evolving computer security threats. ESET pioneered and continues to lead the industry in proactive threat detection. ESET NOD32 Antivirus, its flagship product, consistently achieves the highest accolades in all types of comparative testing and is the foundational product that builds out the ESET product line to include ESET Smart Security. ESET Smart Security is an integrated antivirus, antispyware, antispam and personal firewall solution that combines accuracy, speed and an extremely small system footprint to create the most effective security solution in the industry. Both products have an extremely efficient code base that eliminates the unnecessary large size found in some solutions. This means faster scanning that doesn't slow down computers or networks. Sold in more than 160 countries, ESET has worldwide production headquarters in Bratislava, SK and worldwide distribution headquarters in San Diego, U.S. ESET also has offices in Bristol, U.K.; Buenos Aires, AR; Prague, CZ; and is globally represented by an extensive partner network. For more information, visit https://eset.version-2.sg
About Version 2 Limited
Version 2 Limited is one of the most dynamic IT companies in Asia. The company develops and distributes IT products for Internet and IP-based networks, including communication systems, Internet software, security, network, and media products. Through an extensive network of channels, point of sales, resellers, and partnership companies, Version 2 Limited offers quality products and services which are highly acclaimed in the market. Its customers cover a wide spectrum which include Global 1000 enterprises, regional listed companies, public utilities, Government, a vast number of successful SMEs, and consumers in various Asian cities.