High-performance threat protection for the next-generation of 64-bit computers.

Why 64-bit?
If you need a high performance platform for your business or personal applications, then 64-bit hardware and operating systems are going to be on your list. They offer more data per clock cycle, large memory support up to 128 GB of RAM and 16 terabytes of virtual memory, and the flexibility to run 32-bit applications as well. For more information, visit
http://www.microsoft.com/windowsxp/64bit/default.mspx.

The fastest 64-bit antivirus!
Virus Bulletin tested 10 different 64-bit antivirus products and rated NOD the fastest. On Windows 2003 Server x64, we performed approximately twice as fast as the closest competitor, scanning executable test set at a rate of 30,385.1 kB/sec. "Detection was at its usual high levels for this product, and NOD32 obtains a VB 100% award for its collection as a result," noted the reviewer.

Comprehensive Platform Support
Many antivirus vendors do not yet have full 64-bit support for their complete line of products. ESET is one of very few vendors to support 64-bit Windows in all of our products.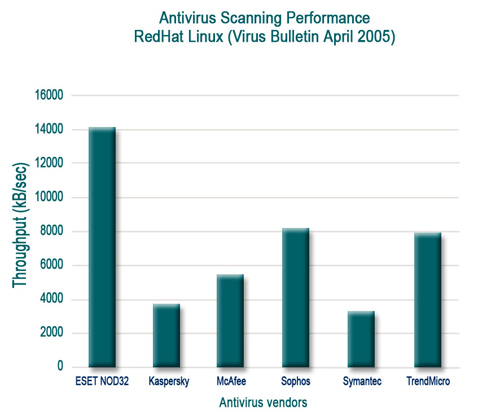 System Requirements
Microsoft Windows XP Professional x64 Edition
Microsoft Windows 2003 Server x64
Intel 64-bit or AMD Athlon 64 processor
Note: NOD32 for Windows includes support for both 32-bit and 64-bit operating systems. In 64-bit mode, the kernel driver is 100% 64-bit compatibile, while user-mode modules, which are typically user interface, menus, etc, execute as 32-bit code.