Integrated, Real-Time virus and spyware protection for your Microsoft® Windows workstations
Users of Microsoft® Windows® can experience the power and elegance of ESET NOD32's ThreatSense Technology with ease and comfort. Our single optimized engine offers the best protection from viruses, spyware, rootkits, adware, phishing attacks, and more. Keep tomorrow's threats at bay with our proactive detection technology. And it has the smallest footprint and fastest performance - bar none.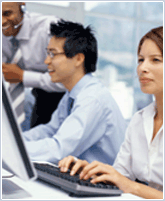 ESET's NOD32 Key Features
ThreatSense® technology — a single optimized Anti-Threat engine for analyzing code to identify malicious behavior, such as viruses, spyware, adware, phishing and more

Unprecedented heuristic analysis capable of discovering new malware threats as they emerge

Powerful virtual PC emulation technology enables unpacking and decryption of all types of archives and run-time packing

Protects at multiple infiltration points, including HTTP, POP3, SMTP and all local and removable media

Enhanced Rootkit Protection

Prevents infected files from being opened and executed, and warns on creation of infected files

Automatic execution on system startup

Supports multiple Terminal Server environments

Supports scanning of mapped network disks
Automatic Updates
Supports hourly incremental updates to the ThreatSense Technology

Includes upgrades of the executable program components, so your NOD is never out of date

Most updates are performed behind the scenes and 'on-the-fly' without the need for a reboot.

Small incremental update of the virus database minimizes network congestion and download times (usually under 50kB).

Allows flexible scheduling of updates and selection of various update profiles.

Checks for updates of the system at user-defined intervals or even upon the occurrence of a predefined event.

Provides intelligent update options for computers on dial-up access.

Supports proxy-servers (Basic and NTLM authentication).

Provides authentication of the origin of downloaded update files using a digital signature technique.

Supports updating from a local site without accessing the Internet, such as from a server within a LAN.

The upgrade system can be configured to reflect a multi-level hierarchy and/or other needs of a large company or organization; including the ability to download updates from a local mirror server.

Creates updates to a floppy or CD for PCs that are not connected to the network.

Configuration settings can be distributed to local workstations from an administrator's computer.

Provides the option to use a configuration file to set system parameters across the network during initial installation and/or subsequent updates.

Supports 'silent mode' on end-user workstations: notification messages may be forwarded to an administrator only.

Allows the settings to be password protected.
Centralized Logging provides information on:
On-demand scanner results

Relevant events (e.g. performed updates, executed tasks, etc.)

Infiltrations detected by resident modules and filters
ESET NOD32 Control Center
This central management console provides full access to ESET NOD32's features, tools and settings and fully integrates all installed system components. These are categorized into four different sections, each of which can be expanded into an easy-to-use directory tree style system. For increased security, the key settings can be password protected to prevent unauthorized access and modification.
Protection against threats from multiple input vectors is provided by the following modules:
Antivirus MONitor (AMON)
An on-access (memory-resident) scanner, which automatically scans files before they're accessed.
ESET NOD32
An on-demand scanner, which can be run manually on specific files or disk segments. It can also be scheduled to run during off-peak times.
Internet MONitor (IMON)
A memory-resident scanner that runs on the Winsock level to prevent infected files from reaching the computer's disks. It scans internet web-browsing traffic (HTTP) and incoming email via the POP3 protocol.
Email MONitor (EMON)
An auxilary module for scanning incoming/outgoing emails via the MAPI interface, such as Microsoft Outlook and Microsoft Exchange.
Document MONitor (DMON)
Utilizes the proprietary Microsoft API for scanning Microsoft Office documents (including Internet Explorer).
System Requirements
Microsoft Windows NT 4.0, 2000 and 2003 Server

Microsoft Windows XP Home and Professional, including Windows XP Professional x64 Edition

Windows Vista 32-bit and 64-bit

CPU 386 or higher processor (Pentium recommended)

30 MB free hard disk space

32 MB RAM (64 MB RAM recommended)

VGA or better graphic card